Beijing's new airport ready for take off
By Yin Ruowei | Updated: 2019-03-14
World's first passenger terminal offering direct access to high-speed, express rail, subway
Beijing's much-anticipated Da xing International Airport is on schedule, with construction expected to complete by June 30 and ready for use by passengers on Sept 30.
Once finished, it will become the world's largest airport in terms of passenger capacity, designers said.
Sitting at the center of the Beijing-Tianjin-Hebei region and the middle point between Xiongan New Area and Beijing's sub-administrative center in Tongzhou district, the project will be the second international airport in Beijing.

From left: A terminal at Beijing Daxing International Airport, still under construction; the new airport's impressive steel framework; construction of the airport in Daxing district is scheduled to complete in June. Provided to China Daily.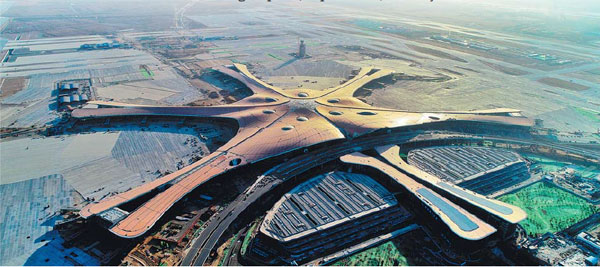 Aerial view of Beijing Daxing International Airport, which is scheduled to open in September. Provided to China Daily
The new airport in the south of Beijing is expected to reduce the annual passenger flows of Beijing Capital International Airport, the world's second-busiest airport, which is located on the northeastern outskirts of the city, from 100 million to 82 million.
According to Li Jianhua, project manager of Beijing Urban Construction Group for the airport program, the new airport is slightly different from the current international airport since it will function as an integrated air-ground transportation hub.
It will be the world's first airport that will have high-speed railway, subway and airport express trains all passing through beneath. Once built up, it will be accessible to some 200 million people from 28 cities within three hours through the high-speed rail network, local officials said.
To ensure high-speed trains can reach a maximum speed of 250 kilometers per hour, middle-layer anti-seismic technology invented by Beijing Urban Construction Group was used in building the project. A total of 1,152 anti-seismic pillars were built in the middle of layers in the pillars.
Therefore, the new airport can withstand an 8-magnitude earthquake, making itself the world's largest single anti-seismic building.
The new Daxing airport, designed by the late world-renowned architect Zaha Hadid, boasts four runways spreading outward and a terminal building covering 1.03 million square meters, the largest single airport terminal in the world.
Shaped like a golden phoenix spreading its wings to welcome passengers from China and abroad, the Daxing airport promises to reduce the distance for passengers between security checkpoints and gates to an eight-minute walk, or 600 meters, said Yi Wei, deputy manager of the planning department of Beijing Daxing International Airport's construction coordination division.
The new airport is expected to handle 72 million passengers by 2025 and annually accommodate more than 100 million passengers, 4 million metric tons of goods and 880,000 takeoffs and landings in the long term.
All China-based carriers of the SkyTeam Airline Alliance, including China Southern Airlines and China Eastern Airlines, will move to the Daxing airport once it opens. Members of the Star Alliance, such as national carrier Air China, will remain at the BCIA, Li said.
The new airport in Daxing district also features a number of breakthrough technologies.
It will become a 5G-connected airport, as the municipal government is to build a 5G mobile network in the next five years to cover key areas within the city, Yi added.
Facial recognition and virtual reality technologies will be used for inspections and safety videos, Li said.
The new airport is domestic-built and meets international standards. For example, its terminal is the largest green building in China and the first in the country to pass the AAA assessment for energy efficiency, he said.
Through ground source heat pumps and a solar photovoltaic system, the airport will be able to sustain 10 percent of its overall energy consumption.
Less than five years after breaking ground at the end of 2014, Li and his construction team have completed a string of challenging projects on or ahead of schedule. They are currently putting the finishing touches on the project.
"We are working at full speed, (the equivalent of) building 25 18-story buildings every month. It is a rare honor to be part of such a gigantic project," Li said.